On Demand Webinar
Non Member
Regular price
$1,095.00 USD
Unit price
per
NOTE: This product is now an on-demand recording of the series recorded on the dates noted below. 
Leading and managing a community and staff can be an all-consuming challenge that leaves little time for local government supervisors to focus on their personal growth. Through six live and on demand webinars, the Effective Supervisory Practices Webinar Series makes it easy to bring practical supervisory training to your jurisdiction without the high costs of hiring consultants.
This interactive webinar series will demonstrate principles covered in Effective Supervisory Practices (5th Edition). Hosted by experienced managers and local government experts, this program is designed to impart real-life experience, best practices, and sound advice in the areas most important to a manager's day-to-day role.
What You Will Learn
The difference between leading and managing
The tools to assist with establishing priorities and focusing work
How to hire the right people for your organization
The role in fostering a safe, harassment-free work environment
How good supervisors can motivate employees to become productive and fulfilled
How to turn a group of employees into a highly functioning team
Who Should Attend

This program is designed as a primer for new supervisors. It not only offers pragmatic recommendations about the day-to-day duties of a supervisor, but also offers guidance for addressing the more complex challenges all managers confront as they seek to effectively communicate, motivate, and model ethical decisions to lead a team.
Dates
Each session will last approximately 90 minutes, and will begin at 1:00 PM Eastern on the following dates:
| Date | Session | Title |
| --- | --- | --- |
| Wednesday, April 19, 2023 | Session 1 | The Foundation: Roles of a Supervisor / Supervisory Leadership and Ethics |
| Wednesday, May 3, 2023 | Session 2 | Sharpening Your Focus: Strategic Planning, Managing Workflow, and Budgeting |
| Wednesday, May 17, 2023 | Session 3 | Raising the Bar: Motivating Employees and Customer Service |
| Wednesday, May 31, 2023 | Session 4 | The People Part: Hiring and Onboarding, Fostering Accountability, Evaluating Performance |
| Wednesday, June 14, 2023 | Session 5 | The Great Communicator: Team Building, Communicating, Leading Change |
| Wednesday, June 28, 2023 | Session 6 | The HR Stuff: Ensuring a Safe, Respectful, Harassment-Free Workplace |
A recording of each session will be available on demand shortly after the conclusion of the live event, and participants will have access to these recordings for six months after their purchase. Participants will also receive a certificate upon completion of the course.
What You Will Need

Required Reading
Recommended Reading
Effective Supervisory Practices Skill Building Study Guide
Print Edition Sold Out! DIGITAL
Effective Supervisory Skill Building: Textbook and Study Guide Bundle
Print Edition Sold Out! DIGITAL

About Licenses
Purchase a single license to view in one office or conference room by yourself or in a group. Only one log-in and completion certificate will be issued.
Purchase multiple licenses to grant individual series access and personalized certificates to your staff members (pricing is per office, not per individual). Only the purchaser needs to be an ICMA member to receive the member rate. Nonmembers can request invoices on behalf of members in their community to receive the member rate; please send requests via email to jlamphear@icma.org. Staff registration lists must be submitted within six months of purchase.
Instructions for Registering Groups
Fill in all visible columns (please do not reveal the "hidden" columns).
NOTE: When filling in the State column, please use the two-letter, all-caps abbreviation (ex. Maryland should be MD). For the Address column, you may use your organization's main office address rather than personal addresses of each registrant.
Once the list is completed, email list to Julian Lamphear at jlamphear@icma.org and add the words "ESP Registration for [your organization]" to the subject line of the email. All staff members must be submitted within six months of purchase; unused licenses will expire after this period.
Allow three to four business days for processing. When access is granted, your staff members will receive an email with next steps. They will then be able to access their classes by visiting https://learninglab.icma.org and logging on with their email and the password of 123, then navigating to their Dashboard (they will be instructed to reset their password upon login).
NOTE: ICMA members and participants who already have accounts on the ICMA website should use their existing login information to access the course.
Don't forget to order your books! Buy the book »
For more information, please contact the webinar program manager Julian Lamphear at jlamphear@icma.org.
Practices for Effective Local Government Management and Leadership
All ICMA University courses are drawn from the 14 core competencies that members have determined are essential to local government leadership and management.
PRACTICE AREAS: [1] Personal and Professional Integrity, [4] Staff Effectiveness, [5] Personal Resiliency and Development, [6] Strategic Leadership, [7] Strategic Planning, [12] Financial Management and Budgeting, [13] Human Resources Management and Workforce Engagement, and [14] Communication and Information Sharing
TOPICS: Leadership
JOB TITLES: Chief Administrative Officer (CAO), Assistant Chief Administrative Officer (ACAO), and Department Head
Share
View full details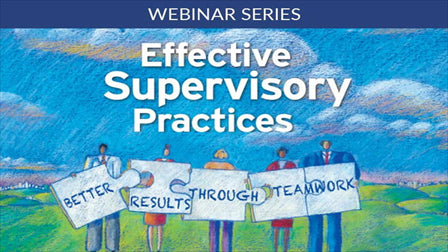 What is On Demand?

On Demand courses are pre-recorded videos that allow you to pause, replay and learn at your own pace.
Create a Free ICMA Account

An ICMA account is required to purchase courses.

With a free ICMA account you can enjoy access to weekly newsletters of Leadership Matters, purchase ads from the Job Center, receive 12 free credits to 1-on-1 coaching and more!

Learn more

Become a Member of ICMA

ICMA Members enjoy a 40% or more discount on products, free subscription to PM Magazine, participate in member only discussions, receive unlimited 1-on-1 coaching and more!

Learn more