On Demand Course
Join ICMA and APA for a deep dive on how local government policies and actions affect large-scale solar development outcomes. This nine-part webinar series will begin with an overview of key themes in the new Solar@Scale guidebook [download here] followed by several webinars that explore its eight related, but semi-independent, modules. Each webinar will feature real-world community examples and takeaways you can implement in your jurisdiction. Those who attend all nine webinars will receive a Solar@Scale certificate of completion to document their improved knowledge of large-scale solar, as well as an AICP credit for each session. 
PRACTICE AREAS: [8] Policy Facilitation and Implementation and [10] Service Delivery
TOPICS: Sustainability
JOB TITLES: Chief Administrative Officer (CAO), Assistant Chief Administrative Officer (ACAO), and Department Head
Share
View full details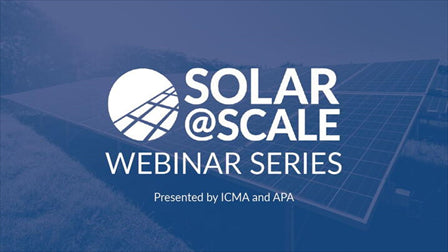 What is On Demand?

On Demand courses are pre-recorded videos that allow you to pause, replay and learn at your own pace.
Create a Free ICMA Account

An ICMA account is required to purchase courses.

With a free ICMA account you can enjoy access to weekly newsletters of Leadership Matters, purchase ads from the Job Center, receive 12 free credits to 1-on-1 coaching and more!

Learn more

Become a Member of ICMA

ICMA Members enjoy a 40% or more discount on products, free subscription to PM Magazine, participate in member only discussions, receive unlimited 1-on-1 coaching and more!

Learn more